Chief Bridge Joins His Men on Patrol (2017/09/26)
On the night of July 11, 2017, Chief Robert Bridge made good on his promise to be on the streets with his officers. He watches while a shoplifting suspect is placed under arrest. Also present are Sgt. Greg Baron, Lt. Chris Bernal, the suspect, and Sgt. John Berry.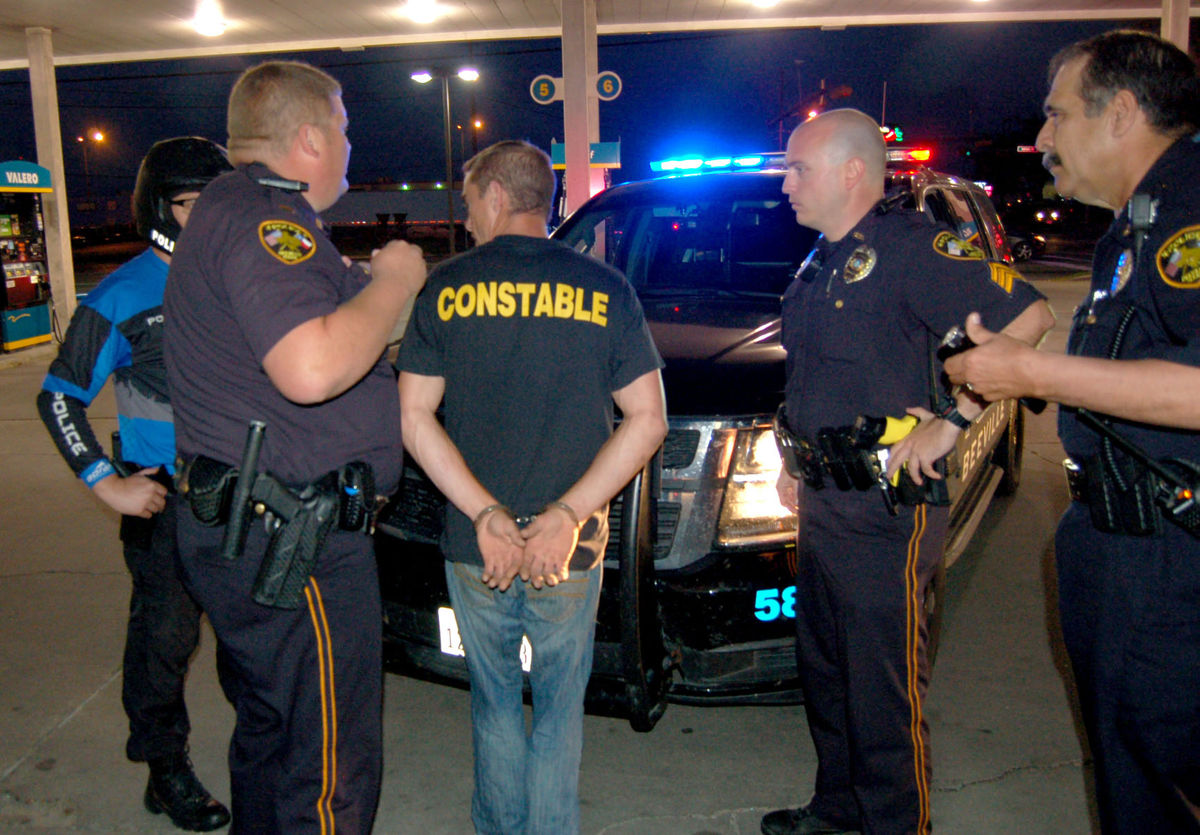 ---
Sausage Wraps at Beeville Boys & Girl's Club (2017/09/16)
At 11:00 on Saturday, Sept. 16 during the soccer games at the Beeville Boy's and Girl's Club, Coastal Bend Crime Stoppers will sell sausage wraps along with a drink and chips for $7.00. Board member, Dennis Phipps, will cook the sausages for Crime Stoppers.
We hope you come out and enjoy the games, friends, family, and good food.
---
City of Beeville Chief Robert Bridge (2017/09/13)
Coastal Bend Crime Stoppers welcomes Chief Robert Bridge to the City of Beeville Police Department. Chief Bridge is a local rancher, and not a stranger to Beeville. It is his hometown. He is married to Linda Bridge, Bee County's Tax Assessor-Collector. They have two daughters.
Chief Bridge has served in the military, and was in the Corpus Christi Police Department from 1983-2008, where he rose to the position of Captain. He has also served Bee County as Emergency Management Coordinator, Bailiff for District Court, and Justice of Peace Precinct 2.
Chief Bridge wants the police department to keep up with technological changes in law enforcement, and will see that his officers are well trained. Coastal Bend Crime Stoppers looks forward to working with Chief Bridges. We encourage the public to call Crime Stoppers with information that can help his officers solve local crimes.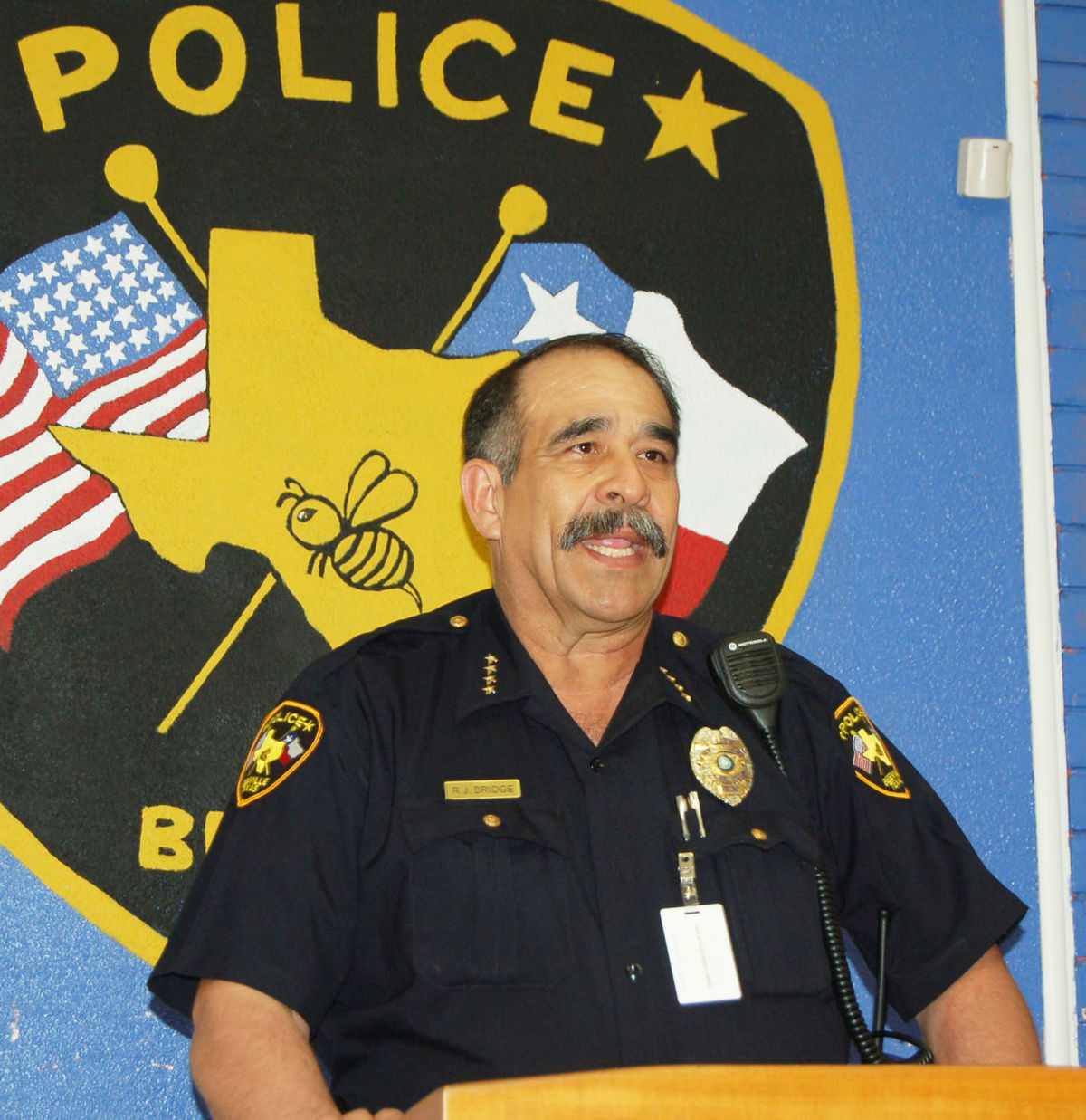 ---
P3 Crime Stoppers Software (2017/02/21)

Coastal Bend Crime Stoppers, Inc. is in its second year of using Anderson Software specialized Crime Stoppers Software program called P3. It is the latest software available to Crime Stoppers programs all over the world.
P3 has proved to be an exceptional tool in our efforts to get a tip from the public to the correct law enforcement agency. Tipsters can download the mobile app: P2 Tips on their phone, to make and follow up on a tip. Pictures and videos can also be downloaded into P3.
Since this world wide software company is located in Kerrville, TX, we are fortunate to easily contact them with any technical questions we have about the program.
---
Taste of Goliad (2014/01/31)
Coastal Bend Crime Stoppers participated in the Taste of Goliad held at Goliad Memorial Auditorium. The event was sponsored by the Astron Club of Goliad. Proceeds were used to sponsor programs in Goliad County.
Our large roaster of Ranch Stew was a hit, and we had a good time!!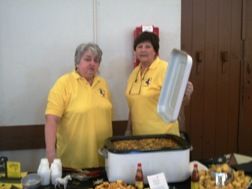 ---
Tips on Wanted Fugitives and Sex Offenders (2013/12/31)
Last year, 30 DPS Most Wanted fugitives and sex offenders were arrested, and a record $93,000 in cash rewards were paid in cases where tips led to arrests. The first Most Wanted arrest of 2013 took place in Bandera when a violent sex offender was apprehended after a tip was called in. The tipster will receive a $5,000 cash reward. To see the press release on that arrest, visit: http://www.dps.texas.gov/director_staff/media_and_communications/pr010813.htm.
For more information on the Texas 10 Most Wanted program, including featured fugitives and archives of captured fugitives, visit: http://www.txdps.state.tx.us/texas10mostwanted/.
The following link, http://www.dps.texas.gov/Texas10MostWanted/video/tipsterVideo.htm, explains the steps on how to submit a tip regarding a Texas 10 Most Wanted Fugitive or Sex Offender and/or how to receive a reward once the fugitive is captured.
---