BEE COUNTY NATIONAL NIGHT OUT 2018
Tuesday October 2, 2018
6:00 - 8:00 P.M.
Bee County Courthouse Area
Welcome to National Night Out website. If you have any questions that this site does not answer please contact Judy Ranalli at (361) 354-0231and leave a message. She will return your call.
Come join us for a county wide block party hosted by Coastal Bend Crime Stoppers. FREE food, entertainment, dunking booth, games, etc. Meet our local Sheriff's deputies, Police officers, EMS, and Volunteer Fire Fighters/First Responders in a fun atmosphere!
Bee County National Night Out's Mission Statement
Bee County National Night Out is for the general public from all over Bee County. This night has been set aside in order that the citizens of the county could meet their local law enforcement, fire departments, and emergency medical technicians in order that together, we will continue to build community spirit.
History of National Night out in Bee County
National Association of Town Watchers Executive Director Matt Peskin began National Night Out in 1984. He was hoping it would be a way for our local law enforcement agencies to come together with our communities to send a message to criminals that we are fighting back against crime.
National Night out started out with only 400 communities in 23 states participating that year. Today there are 16,124 communities in all fifty states, U. S. territories, Canadian cities, and on military bases worldwide. While most communities hold their events in August because of the heat ours is on the first Tuesday in October.
About Us
In 2012 the Bee County Sheriff's Office, the Beeville Police Department and the Coastal Bend Crime Stoppers joined forces for the annual National Night Out to help promote community spirit.
We have grown from a block party to encompass three areas . The event has vendors, games, entertainment, food, a mini health fair and Rosie the Clown!
Parents, grandparents, young and old can come bring the kids and not worry about the cost because everything is free. . We will have officers from both the Sheriff's Office and the Police Department along with their K-9 unit to answer your questions. You can also "Drop a Cop" in a dunking booth manned by brave deputies. There will also be a staffed ambulance from Angel Care, and you will be able to talk with emergency personnel. A nursing truck will attend (they will hand out free ice cream),, along with other health agencies. Local social organizations will have booths with games for the kids.
Area fire departments in Bee County will bring their trucks, and participate in this worthwhile event.
National Night Out is two hours long (6:00-8:00 pm). Children can still get home to do work or get to be on time for school the next day.
If can donate to help make National Night Out a success by sending your donation to:
National Night Out
c/o Coastal Bend Crime Stoppers
210 E. Corpus Christi St.
Beeville, TX 78102
Note: NNO is hosted by Coastal Bend Crime Stoppers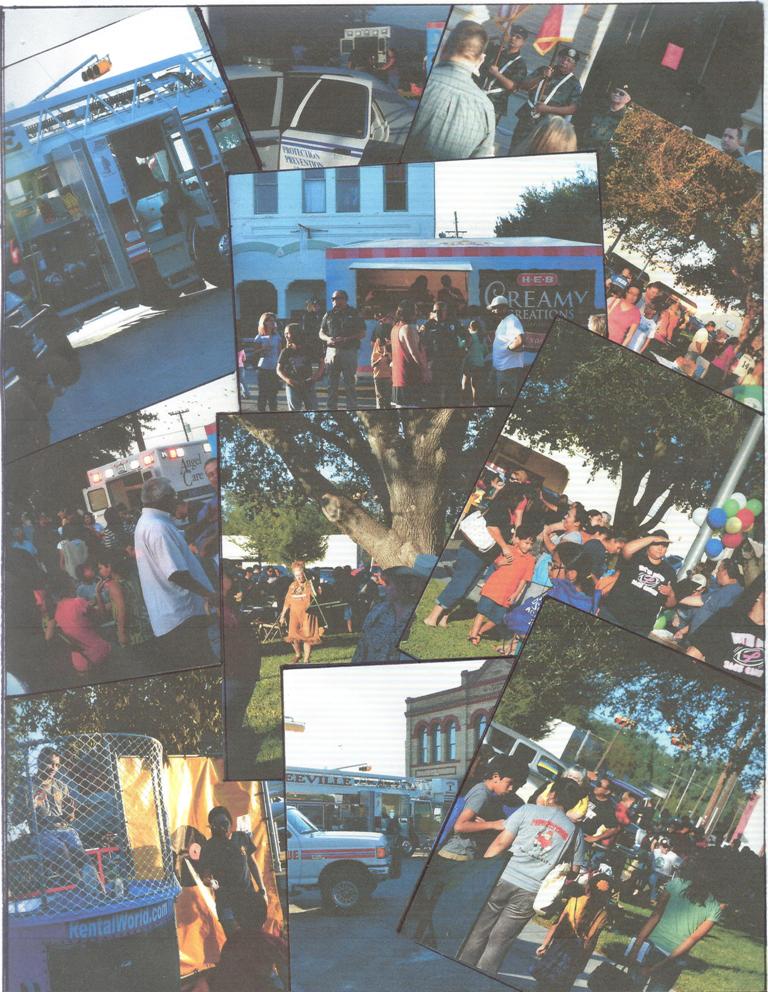 . Your NNO donation will go directly to promote NNO, not Crime Stoppers.
Vendor Information
Set up Time for Vendors 4:45 p.m.
Area A Front of Courthouse on Corpus Christi St. between Washington and St. Mary's St.
Area B Courthouse parking Lot off St. Mary's St. (Limited availability until until courthouse employees leave for the day)
Area C St. Mary's St. between Courthouse and Justice Building
HOPE TO SEE YOU THERE!!!!
Contact information:
Coastal Bend Crime Stoppers
210 E. Corpus Christi Street
Beeville TX 78102
Judy Ranalli: (361) 354-0231
E-mail:
Click source below for a printable Contact Sheet
CONTACT SHEET NATIONAL NIGHT OUT (1).pdf