Vandalism at the Veterans Memorial Park

$500 (Crime Stoppers) + $100 (private donation) + $300 ("Crime of the Week") =

$900

! That number may go up as veterans and other citizens across the county add their support to find these vandals.
Please contact Crime Stoppers if you have any information about this crime!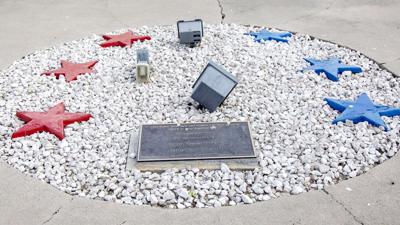 Check out our Crime of the Week page for more information!
Do you know where to find Tomas "Shark" Suniga??? Suniga is wanted for Robbery and Assault with a deadly weapon. Crime Stoppers needs your help to locate him. He is believed to be in the Beeville/Skidmore area!
Crime Stoppers ask your help for information on a second crime that took place in Tulsita on April 21, 2018. $15,000 of water well products were stolen from a shop at the residence among items also taken from the home.
Crime Stoppers is looking for the identity, or any other information that might lead to the arrest of a suspect believed to have been involved in a number of burglaries. The man was photographed by a security camera in one recent burglary. Check out the "Crime of the Week" for his picture. Call us if you know who and where he can be found.
Check Out "Crime of the Week" above for more information!
Coastal Bend Crime Stoppers, Inc.'s Board of Directors meet the first Thursday of the month at 6:30 p.m. The meetings are held at 210 E. Corpus Christi St. in Beeville.
Coastal Bend Crime Stoppers, Inc.
Bee, Goliad, & Live Oak Counties
.
Coastal Bend Crime Stoppers, Inc. is a
a 501(c)(3) nonprofit, and a certified Texas Crime Stoppers organization.
https://gov.texas.gov/organization/crime-stoppers
CBCS is a member of the newly formed association of Texas Association for Crime Stoppers. The Association is an advocate for Texas Crime Stoppers programs and works with the Council to promote every opportunity for each program.
Texas Association for Crime Stoppers (tx4cs)
Texas Crime Stoppers operates under the protection and guidance of TX Government Code 414.

GOVERNMENTCODE414CrimeStoppers.pdf

TX Gov't Code 414 protects the anonymity of a Crime Stopper's tipster, sets the guidelines for reporting and paying tips, sets guidelines how court fees are to be used, gives protection to the Board of Directors, protects our tips from being introduced in court, establishes guidelines for becoming a certified Crime Stoppers program in Texas, and much more.

OperationalProceduresforCBCrimeStoppers.pdf

BYLAWSOFCOASTALBENDCRIMESTOPPERSJan.2018.pdf

The COASTAL BEND CRIME STOPPERS FIRST ANNUAL FUNDRAISER AND LAW ENFORCEMENT APPRECIATION DINNER
was held February 15, 2018 at the Beeville Country Club, and was a huge success.
We are looking forward to our Second Annual Fundraiser and Law Enforcement Appreciation Dinner in 2019!
STATISTICS FOR 2018
As of July 24, 2018
Arrest - 23 Cases Cleared - 8 Rewards Pd.- $1,850
(Not counting $1,900 approved and not claimed to date)
Property Recovered -$28,000 Drugs Seized -$6,230
Vehicles Recovered -2 Cash Recovered - $1,800
Weapons Seized/Recovered - 6
Total Recovered - $36,030
CBCS meets at 6:00 p.m. the first Thursday of the month at
210 E. Corpus Christi St. in Beeville.
Check out "Crime of the Week" or "Cases" for information about current and cold cases!
* An extra $100 - $300 is added to the reward when a Crime of the Week case is solved!
Coastal Bend Crime Stoppers' is still seeking information about the burglary of A&D Alignment in Beeville on the evening of March 21, or early morning of March 22, 2018. Look under "Crime of the Week" to find out more information about this , and contact us if your have any information that can help solve this case!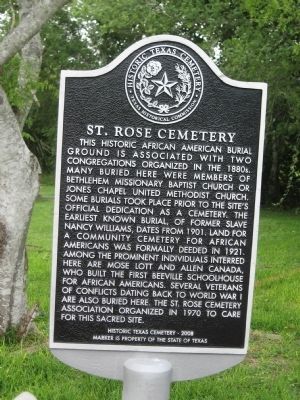 A cash reward is still being offered for information about the theft or destruction of any historical marker or grave stone from a Bee County Cemetery. These markers are purchased with hard earned county, fund raiser, and private funds. They are the result of countless hours of research, and approved by the Texas Historical Commission. Their destruction is a crime against our whole community.
Texas law protects Texas cemeteries.
Keep those tips coming, and we will keep paying cash rewards!
***To be eligible for a Crime Stoppers' cash reward you have to call us first. We are only allowed to pay for Crime Stoppers' tips. If you choose to call your local law enforcement office after making a tip to Crime Stoppers, it is your choice. However, your identity may no longer be protected.
Up to $1000 offered for information that solves a crime
(Plus the extra $100 to $300 added to the Crime of the Week).
*******************************************************************************************************
Crime Stoppers encourages members of the community to assist local law enforcement agencies in the fight against crime by overcoming the two key elements that inhibit community involvement: fear and apathy.
Crime Stoppers provides a telephone number and Web Tips to encourage citizens and students in the county to volunteer vital information helpful to law enforcement agencies in their efforts to solve local crimes.
Click on "External Links" for some interesting information available on the WEB. Locate Sex Offenders , Convicted Felons and learn about Crime Stoppers Nation Wide. Get involved , Help Us fight Crime in our area.
HOW TO GIVE A TIP AND WHAT HAPPENS NEXT
Click on "Give A Tip" (On this web Page), call 361 362-0206 or 877 362-0206, or use Mobile app: P3 Tips and make an Anonymous Report on a Crime or Suspicious activity. No record of your Identity or Phone number is visible. (no caller ID). You will be given a Code Number to use if you are seeking a REWARD of up to $1000. The call center will also give you a local number to call to check the status of your tip. You will need the your code number when you call our local number. Remember, law enforcement needs time to investigate the tip, but as soon as they tell us it was a good tip, we will be ready to pay that cash reward. $300 will be added to any reward if the tip is about our "Crime of the Week".
We have a way to pay your reward without ever knowing who you are (in fact, your identify is protected by law).